FilterLOCK Furnace and Air Conditioning Filter Seal
Model: FilterLOCK / Part: #176742

0 review(s)
Free Returns
100% Compatibility Guarantee
Patented two-piece system designed for use with 1-inch air filters
Eliminates air leakage at the filter slot/door to improve indoor air quality (IAQ)
Built-in magnet fasteners hold FilterLock® securely in place, and it is re-usable indefinitely
Saves energy and reduces energy bills
FilterLOCK Furnace and Air Conditioning Filter Slot Seal
Your furnace or air conditioning system may be sucking in deadly gases (carbon monoxide, radon, etc.) as well as dangerous chemicals, allergens, and pet dander.

The Department of Energy Says - "Cover/seal furnace filter slot to eliminate air leaks."

The FilterLOCK is placed over the filter slot (or any seams in metal ductwork) to eliminate the entry of unfiltered air into your forced air system. Millions of homes have open filter slots needing FilterLock to seal, save energy, and improve indoor air quality.

FEATURES:

Year round savings and protection
Blocks allergens and pollutants
One-size-fits-all standard air filters - comes with two seal pieces that overlap
Easy-on / easy-off (reusable)
Magnetically attaches to metal duct
Saves energy - reduces utility bills

Dimensions - 4-3/4" Wide - Covers slots up to 25" Long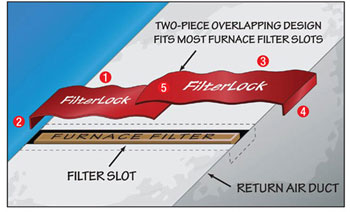 No Reviews Yet
Nothing for Compatibility Yet.
No Instructions Yet.