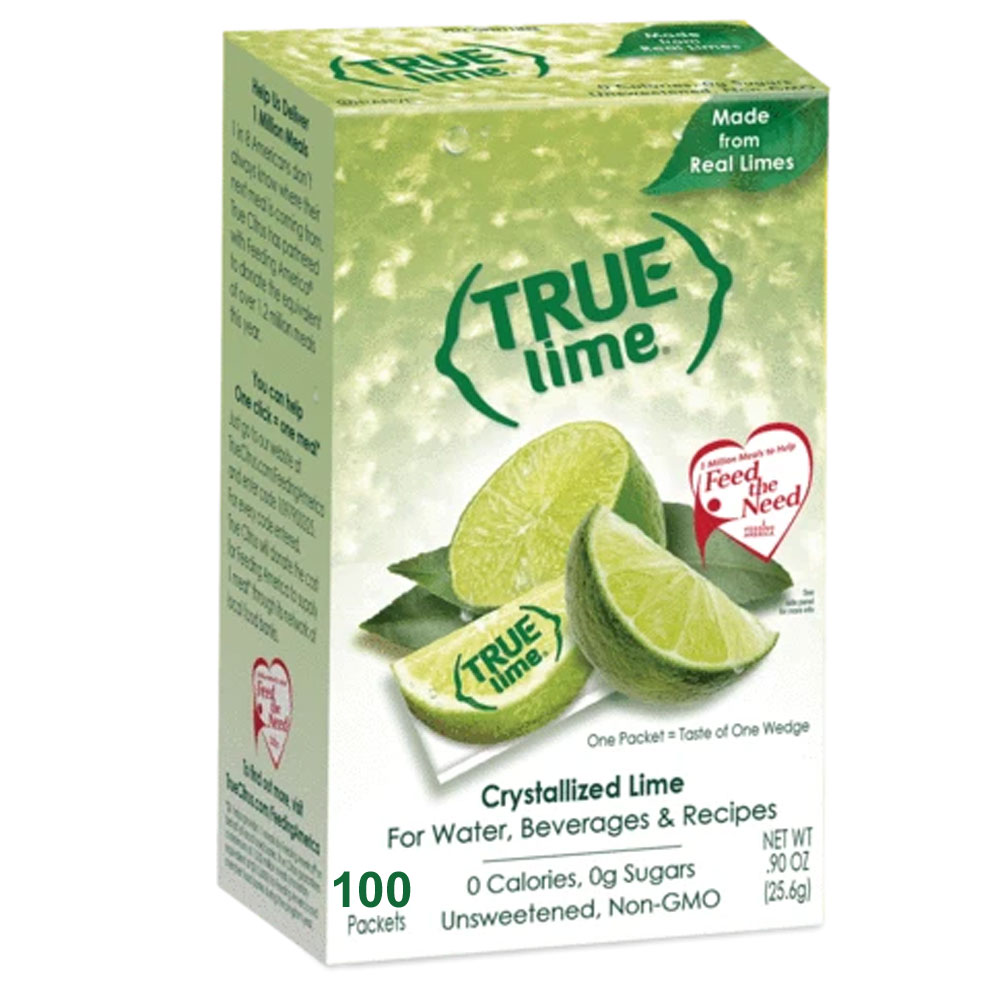 True Lime Water Flavoring Packet - Box of 100
Model: 00-3506 / Part: #190397

8 review(s)
Free Returns
100% Compatibility Guarantee
Case of 100 packets
Made from crystallized citrus juice and oils
Add the freshing taste of a lime wedge to your water
1 convenient packet = taste of one lime wedge
Enjoy the taste of fresh squeezed lime wherever you go with True Lime. Made from real lime juice and oils, this crystallized wedge replacement can be used to enhance the flavor of water, tea, and recipes. Each 0 calorie True Lime crystallized packet equals the taste of one lime wedge, contains no artificial sweeteners or preservatives, and is made with only three ingredients. It's great for seasoning drinks and recipes that call for lime juice!

The serving size of .8 grams/packet is perfect to change a large glass of water into a refreshing and healthy treat.
FEATURES:
Ingredients - Crystallized Lime [citric acid, lime oil, lime juice]
Non-GMO ingredients
NO sugar
NO artificial flavors
NO artificial sweeteners (like Acesulfame Potassium, Aspartame, Saccharin, Sucralose)
NO artificial preservatives (like Sodium Benzoate, Sodium Nitrate, Sodium Sulfite, BHA + BHT)
NO colors from artificial sources (like Blue #1/#2, Red #3/40, Yellow #5/6)
NO soy, NO MSG, NO gluten, NO sodium
Case of 100, .8 gram packets
Reviews
Edward Bonnell
25 days ago
Just wanted lime , no sugar Excellent product
Marshall Moranz
19 days ago
tastes just like a slice of lime....great stuff!!
THESE ARE GREAT FLAVOR FOR THOSE WHO DON'T LIKE JUST PLAIN WATER.
Paul J Kruger
15 days ago
Nice light but noticeable flavor without the sweetness. True fruit flavor in a powder. Will definitely be ordering again and it really brightens up plain bottled water.
william j danford
20 days ago
Very authentic lime taste,would buy this again
Eugene M Field
22 days ago
Nothing for Compatibility Yet.
No Instructions Yet.