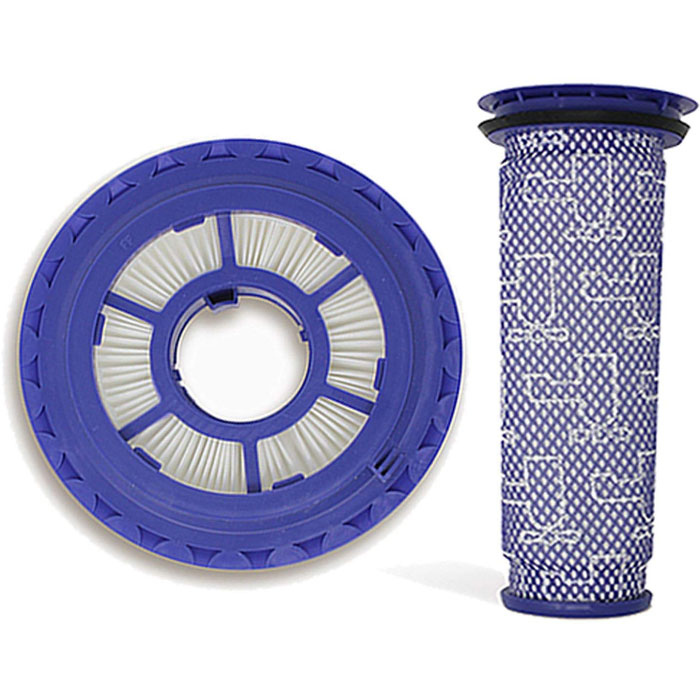 AIRx Replacement HEPA Filter Set for Dyson® Vacuum Cleaners
Model: AXPPF102 / Part: #189538

7 review(s)
Free Returns
100% Compatibility Guarantee
AIRx Replacement HEPA Filter Set for Dyson® Vacuum Cleaners
AIRx Replacement filters are guaranteed to match original equipment performance and fit
Set includes pre-filter and post-filter
Fits
AIRx filters are designed and built to the same fit and performance specifications as the original filters that came with your vacuum cleaner. Performance and fit are guaranteed, backed by our 100% Money-Back Guarantee.
Compatible with: Dyson® DC65, DC41, DC66 Vacuum Cleaners
Improves air quality
Check and wash the filters every 3 months according to instructions to maintain performance
Maintains performance of vacuum while reducing dust, pollen and other allergens in your home
Pre-Filter Dimensions: 8 3/4" Long x 2" Diameter
Post-Filter Dimensions: 6 3/4" Diameter x 1 1/4" High
Dyson® is a trademark of Dyson Inc Chicago, IL. which is not affiliated or otherwise associated with DiscountFilters.com. Any all all use of this mark on this site is for identification purposes only and such use is not intended to, does not, and shall not be deemed to imply any association or affiliation between National Trade Supply, LLC or DiscountFilters.com and Dyson Inc or Dyson®.
Reviews
Good product. I will be using Discount Filters in the future.
First time using your company, we'll do it again when necessary
The filters were a perfect fit.
Walter Nystrom
30 days ago
Good service and the right parts as always, thank you
Curt Philhower
7 days ago
Works great so far and looks like the original.
Barbara Bollinger
11 days ago
easy to find the right size, easy to order, fair price and quick delivery. I am very happy and if you carried our heat pump filter size I would have ordered those too.
Good fit, works like original
Replaces These Filters:
| | |
| --- | --- |
| Dyson: | |
Fits In These Systems:
Dyson:
Ball Allergy
Ball Allergy Exclusive
Ball Allergy Extra
Ball Animal
Ball Animal 2
Ball Animal 2 (Iron)
Ball Animal 2 Total Clean
Ball Animal Exclusive
Ball Animal Pro+
Ball Complete
Ball Multi Floor
Ball Multi Floor Origin
Ball Total Clean
DC41
DC41 Animal
DC41 Animal Complete
DC41 Animal Exclusive
DC41 AnimalPlus
DC41 Exclusive
DC41 Multi Floor
DC41 Multi Floor Exclusive
DC65
DC65 Animal Complete
DC65 Animal Exclusive
DC65 Animal Plus
DC65 Multi Floor
DC65 Multi Floor Exclusive
DC65 Total Clean
DC66
UP13 Total Clean Origin
No Instructions Yet.