AIRx Replacement for Frigidaire PAULTRA and Electrolux EAFCBF Fridge Air Filter, 3-Pack
Model: FAF001 / Part: #183526

73 review(s)
Free Returns
100% Compatibility Guarantee
Replacement for Frigidaire PAULTRA and Electrolux EAFCBF Fridge Air Filter Cartridge
FREQUENTLY BOUGHT TOGETHER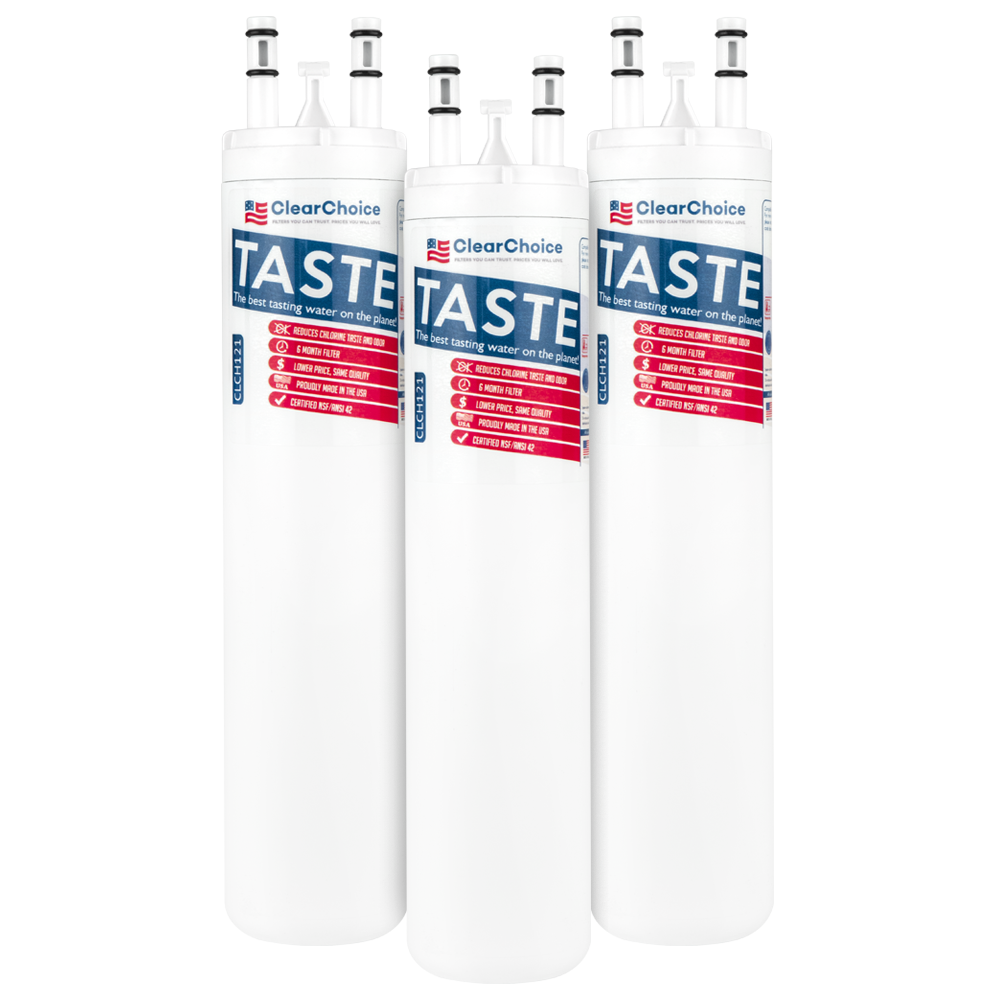 (case of 3 Filters) MFG#: CLCH121
$81.74
Replacement for Frigidaire PAULTRA and Electrolux EAFCBF Fridge Air Filter Cartridge
This filter fits new Frigidaire Gallery and Frigidaire Professional side-by-side and french door refrigerators with the PureSource Ultra Air Filtration system. Also replaces Electrolux EAFCBF in ICON French Door models. The filter eliminates foul odors from your refrigerator and freezer. Using an exclusive combination of baking soda, activated carbon and zeolites, the Frigidaire PureAir filter traps, neutralizes and removes odor-causing molecules.
Eliminates foul odors from your refrigerator and freezer
Keeps refrigerators smelling fresh
Makes ice taste better
Change after 6 months
6-5/8" X 4-3/4" X 3/8" D
INSTRUCTIONS FOR USE:
STEP 1 - Push finger into serrated edge on each side and pull windows out. Discard.
STEP 2 - Insert Filter Cartridge until air filter receptacle
Reviews
Gene A Clausen
11 days ago
Great price. Fast shipping.
DEBORAH KIMMEL
21 days ago
They work just like the you buy at the store but cheaper.
Thomas H Greer
16 days ago
A little expensive for what you get, you were out of stock so took a while to receive order. All was, other wise, good.
Great item. Fits perfect, great quality, well-packaged and quickly shipped.
Sylvia Shelhamer
22 days ago
Does the job without problems
Carlos A Berges
26 days ago
Excellent price, hard to beat
William Brook Bowden
28 days ago
Great Price, Great Quality.
James Bullard
28 days ago
Rita Martinez
24 days ago
Same product but less cost, Thank You
exactly the same as the manufacturers filters at a great price.
First time using this filter, but it looks like the more expensive ones.
Barbara J Weronko
1 day ago
As good as the OEM product
Esther Parker
15 days ago
Very satisfied w product and order handling
George Harris
22 days ago
Good product, very good price and ships quickly
Clarence Tolbert
27 days ago
My refrigerator thanks you ( Smile )
Your price was great compared to the Frigidaire price & the quality is fine!
William Harders
17 days ago
Excellent product, Excellent price!
David K Robertson
21 days ago
Ordered to replace my factory filter. Fit just like original filter and works good.
Phyllis Martinaitis
6 days ago
Good quality and easy to replace.
Great replacement for the price
louis caterina
2 days ago
Robert Boehle
10 days ago
Looks like the oem filter. Installs like the oem filter. Much less expensive.
My refrigerator does not smell anymore. Price is unbeatable and quality is really good. Installation was a piece of cake which took only 2 minutes.
Kenneth F Trofatter
23 days ago
Great price for product that appears to be at least as good as the original
Clinton Paul Anderson
24 days ago
Well worth the economical cost.
Vernon W Rush Jr
13 days ago
Kevin M Clark
16 days ago
Working as good as original equipment. No problems at all. Extremely satisfied.
Matteo Gumier
21 days ago
Gregory Holmes
3 days ago
I can only comment on the ease of installation of this product at this time due to it being installed on my 5th wheel rv and I have not used the rv since the install. Perhaps I will comment a few months down the road.
Norman Chapman
4 days ago
Seems kind of cheap at first and was a little difficult to install due to small size difference. Seems to be working but just a couple of weeks old.
Fits perfect, reasonable price.
Teri Goldfield
17 days ago
Good filtering. No unpleasant odors in the refrigerator.
Alan J Lewitus
16 days ago
Best bargain I could find online
Anne Gingeresky
17 days ago
Even though they are not brand name filters they work just as well.
Perfect in every way. That's all that I can say....
VINCENT SCARABINO
7 days ago
Does the job only cheaper than the original.
Perfect fit....shipping took longer than expected.
Customer Kien wu
18 days ago
Keeps the food stays fresh
Raymond Stieber
5 days ago
Kondal Rao Nookala
21 days ago
Great Filters, Quick Service, Excellent Quality
Does what they need to do
Haven't used the product at this point. Can't find where the old filter is located. ? I am beginning to think my fridge does not have one.
James Hornsey
21 days ago
Product was as advertised. Service was excellent!
Price right, working great!
Looks like original for less money.
Kayleigh Gaedke
10 days ago
Can this price be beat? Great product, great price!
Can't beat the price I will buy here again
Satisfied with the product. Price is nice too. Will continue to purchase them.
Jesusita Soliz
15 days ago
The exact fit, no problems, very well packaged, and to me that's very important, because it saves time and you have them ready when you need them. I didn't want to wait longer incase they weren't the correct filters or water filters, but all was great!, This is where I'm buying my filters from now on... mi
William Howell
2 days ago
Good value and prompt shipping
Crystal LaViscount
13 days ago
Great price. It was easy to install.
Don't you want a fresh air filter in your fridge? Easy to change.
Randy Johannsen
8 days ago
As good as factory filters and at a better price.
I am completely satisfied with my products purchased- and not to mention the cost savings - seems to make them function so much better - just kidding - but there appears to be no difference in their functionality (as compared to the OEM) - except the extra cash in my pocket- Thanks for standing up to your promise
The replacement air filter fit my Frigidaire 3-door refrigerator perfectly. Looks exactly like the OEM model.
Working good so far! Time will tell!
Robert Slusarz
11 days ago
These work as well as the originals.
These are GREAT and work well!
Carolyn Meadows
14 days ago
Perfect fit , quick shipping, works great!
Replaces These Filters:
Electrolux:

241754001

241754002

242047801

242047804

242061001

EAFCBF

Frigidaire:

PAULTRA

PureAdvantage

SCPUREAIRU

PartSelect:
PS1993820
Tier1:
RAF1150
Fits In These Systems:
Electrolux:
E123CS Series
E124RD Series
E132AR Series
E23BC Series
EW26S Series
No Instructions Yet.